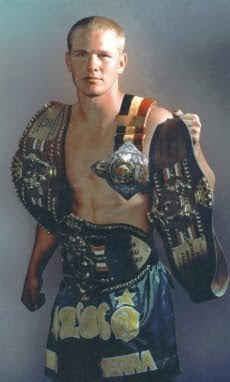 Born in Phoenix, AZ the youngest of 4 boys, Dan was exposed to martial arts at a very young age. He started doing Goju Ryu karate at the age of 2 and shodokan by the age of 8. His older brother was competing in international rules/lowkick kickboxing in 1988, a sport his mom wouldn't allow him to participate in so he was just able to watch from the sidelines. He would spar his brothers at home until the age of 13 when his mom finally gave in and let him sign up for class. Very eager to learn he quickly developed a passion for a sport that would forever change his life.
Dan had his first fight in 1993, under the tutelage of Nico Fern andez. He built his amateur record to 16-3-1 before turning pro at the age of 19. He had a promising professional career, contracted by Dennis Warners WCK. In 2002 the gym he was training out of closed and he began training with Bob Karmel at his Back Alley camp in Chandler. In 2003 with a professional record of 6-1 he was forced to retire. His last fight was on stacked pay-per-view card with stars like JWP, Matee and Pajunsuk. After that fight he chose to have surgery to rectify the problem in his back but was unable to return to competition.
4 years passed before he would realize that the sport he loved so much wasn't quite done with him yet. After many calls from persistent colleagues he found his way back in the gym where he began to coach kids and adults and most importantly rekindle his love for the game.
Dan currently is the head coach of his own program, Danny Brandt Muay Thai. He has traveled the world training in both Thail and and Holl and. He has taken fighters to compete all across the country as well as Russia, China and Thail and. Dan was a member of the coaching staff for the USMF Team USA 2012 and 2016 USMF Team USA junior team, taking 2 teams to compete at the very prestigious IFMA tourney.
DBMT is one of the most active Muay Thai teams in the nation. The team consists fighters from as young as 6 to adults of all ages. As a coach he specializes in Muay Thai, kickboxing, and boxing. He prides himself in teaching fundamentals and stresses basics, basics, basics even for his most elite athletes. He implements a lot of western style boxing into his Muay Thai program and has had great success with it.
Currently his program is based in Gilbert, Az. Dan welcomes all walks of life whether competing is your goal or if your goal is just trying to get in shape. If you want to learn he will teach you.
Des met Danny in the gym in 1997. She trained with Danny for a short time and only had one exhibition before finding out she was pregnant with their first daughter. They were married in the fall of 2000. She spent many years on the sidelines just watching and helping Dan advance in his career. It wasn't until 2007 that she would find herself back in the gym for the sole purpose of losing baby weight. It didn't take long for her competitive personality to kick in and she began training to compete. For the next 6 years she fought as often as she could all while raising 3 children and running a business. During that time, she lost over 100lbs. She became a champion in multiple weight classes and earned herself a spot on the 2012 USMF Team representing USA in St Petersburg, Russia at the prestigious IFMA World tournament. In 2013, fights began to slow down and work began to pick up so she has since taken more of a coaching role on the team. She has been in and around the sport of Muay Thai for almost 20 years, all of those years along the side of Danny Brandt. They make quite the team as husb and and wife, fighter and coach, and have built a strong, family-based program coaching together.